Master The Art Of Throws And Takedowns With Our Judo Classes For Oak Ridge and Clinton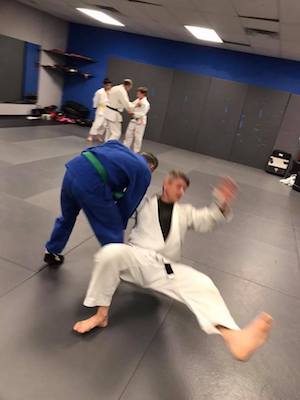 Are you looking for a total-body challenge? Make you want to master a core set of self-defense skills for the competition or real-world setting? Then we've got you covered at Mad Science Judo & Jiu-Jitsu.
We're proud to offer some of the best Judo instruction in all of Oak Ridge, Clinton, and beyond. Our training can teach men and women of all experience levels how to take down an opponent with powerful throws and transition to ground-grappling without wasting a second.
We even offer Women's Only and Semi-Private sessions by request!
Just fill out the short form on your screen to learn more or to get started today!
Why Is Judo Right For You?
Whether you're interested in real-world self-defense or competition training, Judo is a dynamic skill that combines the best of both stand-up fighting and ground grappling. At Mad Science Judo & Jiu-Jitsu, we can teach you how to maintain balance and control on the mat and develop leverage over an opponent on the ground.
And for real-world altercations? Well, the truth is, most fights start on two feet and quickly end up on the ground. You'll want to be prepared for both if you're hoping to defend yourself against an attack or real-world threat.
Our Judo Classes are helping people all across Oak Ridge and Clinton:
Master the art of powerful throws and takedowns
Develop power and leverage over an opponent on the ground
Use locks, chokes, and hold to submit your opponent in no time
From Day One, You'll Be Fitter Than You Ever Thought Possible
Judo is a total-body self-defense strategy that requires every muscle in your body to move in unison as you attempt to maintain control over an opponent. That's why our Judo classes have helped so many people in Oak Ridge enjoy incredible success.
Instead of counting reps and moving from machine to machine, we're helping you build strength and burn fat with hands-on instruction and practical applications of every technique and strategy. At Mad Science Judo & Jiu-Jitsu, you can challenge your body like never before and build up your physical fitness one step at a time.
Join us today for:
Sustainable fat burn and healthy weight loss
Lean strength gains across your entire body
Dynamic speed and athleticism
Incredible self-confidence in everything you do
Don't Miss Out! Join Us In Oak Ridge For The Best Judo Classes Around!
If you're looking for a change in your fitness routine, come see us at Mad Science Judo & Jiu-Jitsu. Our Judo Classes have something for everyone - complete beginners and accomplished fighter alike.
Just fill out the short form on your screen to get started today or to learn more about everything we have to offer for Oak Ridge, Clinton, and surrounding areas.